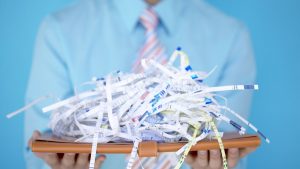 If you are a business owner, then you know that document shredding is important. Confidential information must be kept secure at all times, and using a document shredding service is one of the best ways to do that. However, if you have never used a document shredding service before, then you might not know where to start. In this article, we will walk you through the whole process and tell you what you need to do in order to make the most out of your document shredding experience!
What are Document Shredding Services?
The first thing you need to know is what document shredding services are. These services are provided by companies that specialize in document destruction. They will come to your business and pick up your documents, and then they will shred them into tiny pieces so that no one can read them. This is the best way to protect confidential information, and it is also a great way to declutter your office space!
How to Prepare for a Document Shredding Service
Now that you know what document shredding services are, it's time to learn how to prepare for one.
Determine Which Documents Need Shredding
The first step is to figure out which documents need to be shredded. This might seem like a daunting task, but it is actually quite simple. Any document that has confidential information on it should be shredded. This includes things like financial statements, tax returns, and anything else that you wouldn't want someone to read.
Get All of the Documents Together
Once you know which documents need to be shredded, it's time to get them all together in one place. This will make it easier for the document shredding company when they come to pick up your documents. Make sure that you put all of the documents in a box or bag so that they are easy to carry.
Choose Which Shredding Option
There are two main shredding options: on-site shredding and off-site shredding.
On-site shredding is when a shredding company comes to your location and destroys your documents on-site. This is great for businesses that want to watch the shredding themselves and ensure that everything is destroyed.
Off-site shredding is when your documents are picked up by a shredding company and taken to their facility to be shredded.
Set An Appointment
Once you've decided which option is best for you, it's time to set up an appointment with a shredding company. Be sure to ask about their shredding process and what type of shredder they use. Most reputable shredding companies use cross-cut shredders, which cut your documents into small pieces that are virtually impossible to put back together.
Shredding Day
Once your shredding day arrives, all you need to do is point them in the direction of your document box or bag, and they will take care of the rest! They will load up your documents and shred them on-site, or they will take them off-site to be shredded.
Receive Certificate Of Destruction
A reputable and reliable shredding company will provide you with a Certificate of Destruction after completing the shredding. This document is the company's way of affirming that the papers you turned over to their care were destroyed according to all federal and state regulations regarding the protection of private documents.
And that's it! That is how you prepare for a document shredding service. It's really not as complicated as it seems, and it is a great way to keep your confidential information secure. So don't wait any longer; get started by contacting SafeShred today!