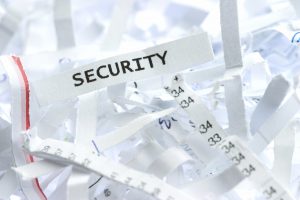 Operating and managing a bank successfully requires endless procedures and accountabilities that must be in place. Specifically, one of the most valuable services a financial institution can offer is the ability to protect customer privacy and confidential information. Secure shredding of sensitive documents is a vital part of maintaining privacy, especially those dealing with large amounts of financial data, like Banks and other financial institutions. In fact, it is a legal requirement that all financial records are shred to an irreversible state once no longer required.
Due to the volume and nature of financial documents, shredding in-house isn't feasible or secure. Your best solution? Turn to professional document shredding. Selecting an ongoing on-site shredding service ensures document security isn't brushed aside mistakenly and instead remains a top priority for your bank, insurance brokerage, investment firm, and any other financial organization. Failing to protect this data through secure storage or shredding, could lead to exposure, leaving your clients vulnerable.
Financial Data is Extremely Confidential
Financial information is particularly sensitive and requires careful management to prevent the risk of an expensive data breach. When you consider how dangerous stolen credit card numbers, bank account information, and social security numbers can be, it's imperative customers willfully trust you to keep these details secure at all times.
As such, if you haven't already, your business should implement a policy that communicates the process in how to protect this vital information. In doing so, you'll ensure your employees are aware of what is expected of them and you will be adhering to applicable privacy regulations.
Surprisingly this doesn't have to be a difficult or time-consuming process for your financial institution. Introducing a document shredding policy is the easiest way to manage financial records in a timely and efficient manner. Simply dispose of these records in a lockable bin, and once at capacity, your professional shredding provider will handle the rest so you can focus your time and energy on important business matters. The SAFESHRED team will keep your financial data protected from the moment we collect your files, until the destruction process.
Information theft continues to be an increasing concern and could be threatening to the reputation you've worked hard to establish. Be sure you are taking the steps needed are storing data when necessary and securely shredding those records that require protection. With the help of a reliable shredding company, together we can keep your financial data safe.
Compliance with Privacy Legislation is Vital
As a financial institution, you are mandated to follow critical legislation regarding the status of financial documents. Banks and other financial businesses are governed by laws such as Gramm-Leach-Bailey Act (GLBA) and the Fair and Accurate Credit Transaction Act (FACTA) to ensure the safety of customer data. Failure to meet these requirements can lead to considerable consequences.
Below are just some of the critical laws that may directly impact your financial institution:
FACTA – The Fair and Accurate Credit Transaction Act, including the Red Flags Rule
The FTC Disposal Rule
Gramm-Leach-Bliley (GLB)
US Patriot Act
Federal Trade Commission Act
Sarbanes Oxley Act
Electronic Espionage Act
Why Choose SAFESHRED for Your Document Shredding Needs?
We are Qualified
We make Document Shredding Convenient
We provide Destruction Services for Your Hard Drives too
At SAFESHRED, we will provide your financial institution with peace of mind through quality shredding services that are backed by experienced specialists. Don't sacrifice customer trust and damage your reputation.
When you partner with our team you are working with NAID Certified Specialists who practice the highest industry standards in security measures. Prevent the risk of a data breach, maintain customer loyalty and keep financial data protected.
Reach out to learn more; we'd love to hear from you.