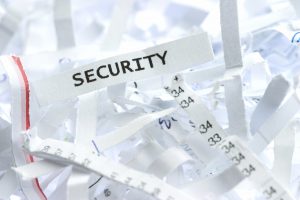 If your Los Angeles business is looking for a shredding service that is secure, reliable, and considerate of your needs, then you're already on the right website! SAFESHRED offers some of the most secure in-house shredding services in the world. But did you know there are more options that we offer that can increase your businesses security even more?
Routine document shredding is one major step your business can take to avoid identity theft, breach of confidentiality, and the ensuing legal work that comes with both of these occurrences. SAFESHRED looks to take this preventative action one step further by offering mobile shredding services.
SAFESHRED operates one of the most secure fleets in the country. We keep our trucks well-maintained and up-to-date to avoid breakdowns and unforeseen circumstances as much as possible. This ensures your documents get destroyed in a timely and secure manner. Our trucks are also continuously tracked with GPS technology to ensure your documents go where they are supposed to. We handle on average 184 tons of paper per day!
This option is also perfect for businesses with hectic schedules; we come to you! We are able to maintain flexibility by providing your business with secure, designated collection bins that our certified drivers and operators will collect from. We will come to your location, gather the documents to be shredded and destroy them on-site. You can even watch if you are so inclined! After destruction the resulting paper fibers are transported in a highly secured truck to a designated paper mill where they are recycled. A Certificate of Destruction is handed to you upon the completion of the process.
If you're still questioning the real benefit of using a mobile service in comparison to an in-house service, here are some reasons why we offer the option to our clients.
Typical in-house document shredders aren't capable of destroying documents to the irreversible state that our trucks can. More industrial machines can get closer, but the costs involved in operating and maintaining these machines usually isn't justifiable to most businesses.
SAFESHRED operates at a significantly higher pace than any in-house shredder can. Your 1-hour of in-house shredding could equal 1 minute for our trucks!
Our mobile services continue to meet or exceed NAID regulations, as well as federal legislative requirements.
Let's summarize what you can gain from mobile shredding services; we come to you, collect documents, destroy them on-site, and take the resulting fibers to a paper mill for recycling purposes. The process is timely and your business doesn't have to make dedicated trips to destroy documents. Our trucks can shred thousands of documents in just minutes. Our trucks are highly secured and only transport fibres; no document is left in-tact before we depart your workplace. Our drivers are certified and will provide a Certification of Destruction on-site, following the shredding process. Lastly, our staff will take care of everything when they arrive on the site, allowing you to focus on running your operations.
If on-site services sound right for your business, contact us today to discuss your unique destruction needs, and together we can discuss the options and provide the best solution for you and your business. Click here to see our coverage area.