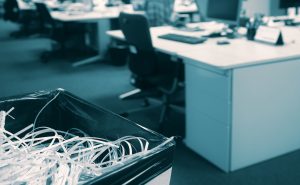 Your Glendale business generates a significant volume of information daily, and for most businesses, it will only increase. In a time where information security is necessary in protecting lost or stolen data, it only makes sense that paper shredding is the easiest and most effective process that does just that; protects sensitive data from becoming exposed to the wrong person.
If your business isn't already, it's critical that you are securely managing, storing, and disposing of your documents on a regular basis.  Taking the proper steps towards safe document management will ensure your records remain protected. Ultimately, secure paper shredding will help to prevent your Glendale business from the potential of fraudulent behavior.
SAFESHRED offers secure paper shredding solutions that are professional and efficient for residents and businesses throughout the Glendale region. Remember that secure disposal of your business documents is not just for your benefit, but for the benefit of your customers and employees as well. After all, you have a legal obligation to protect them from unauthorized exposure.
Dumpster diving is an increasingly growing concern here in Glendale, and the rest of the U.S; discovering even the smallest piece of data can be enough to cause serious damage down the road. Tossing old contracts and receipts into your trash bin leaves your information vulnerable. The only safe method of document disposal is through secure onsite or offsite paper shredding services.
At SAFESHRED, Glendale businesses may take advantage of one-time or periodic scheduled paper shredding solutions. We supply both onsite and offsite paper shredding services
that can be modified to meet your unique needs. Turning to professionals will lower your costs, and provide assurance that your Glendale business is in hands you can trust.
SAFESHRED provides secure paper shredding to the following areas near Glendale:
Burbank, CA
South Pasadena, CA
Los Angeles, CA
Pasadena, CA
West Hollywood, CA
Altadena, CA
Alhambra, CA
San Marino, CA
San Gabriel, CA
Monterey Park, CA
East Los Angeles, CA
Beverly Hills, CA
Commerce, CA
Huntington Park, CA
Advantages of Paper Shredding with SAFESHRED in Glendale
SAFESHRED will help you remain compliant with state and federal privacy laws. Remove unnecessary piles of paper that are consuming valuable office space and feel confident that in doing so, knowing they will be shred securely.
•    SAFESHRED is a proud member of NAID and certified by the National Association for Information Destruction.
•    Reliable services offered by skilled and security screened destruction specialists and equipment operators
•    Secure, lockable collection bins are supplied for safely storing all confidential paper in, prior to shredding.
•    Paper shredding that follows a consistent chain of custody from the time documents are picked-up, to the time it's destroyed.
Onsite Paper Shredding Services
For businesses in Glendale that prefer immediate servicing, or would like to witness the document shredding process, they can request our onsite document shredding. With our mobile shredding services, simply place your sensitive documents in the provided collection bins, we and once a schedule is established, our team will arrive to your Glendale location to proceed with the shredding process.  Our industry leading shred trucks are highly secure, equipped with the industry leading equipment.
A document destruction specialist from SAFESHRED will shred all paper before you, allowing you to view the entire process if you wish. Following shredding, you will be provided with a Certificate of Destruction, which outlines all documents have been shred and in accordance with state privacy laws.
Offsite Paper Shredding Services
If your business could benefit from regular paper shredding, you may prefer to use our offsite paper shredding solution instead. This method is cost-effective and uses high quality shred machinery to quickly (and securely) destroy your confidential information. With offsite shredding, we place lockable collection bins throughout your office according to your convenience. Once at capacity, we will pick up your containers for servicing, and transfer them to our secure off-site shredding facility to look after the rest. Like our onsite shredding services, once a shred job is finished, SAFESHRED will present you with A Certificate of Destruction; documentation that indicates secure shredding did in fact take place.
Looking to speak to us directly? Call SAFESHRED today at 1-800-987-4733 to discuss your shredding requirements. Don't just shred. SAFESHRED!