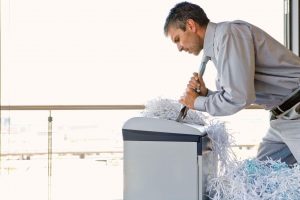 The individual requirements for the disposal of sensitive documents are as unique as the records and information management needs of each business. Sensitive company and client documents must frequently be maintained by the organization, and the data must be disposed of according to industry standards. Neglecting to take proper care of these documents can not only create unwanted clutter in the office but also pose a serious risk to your business. This is why on-site shredding is seen as the most effective approach for getting rid of these documents. This blog post will explain the main advantages of hiring on-site shredding services in Southern California, illustrating why it's becoming increasingly popular.
On-Site Shredding – How Does It Work?
On-site shredding, also known as mobile shredding, is a secure document destruction process that takes place at your premises. The on-site shredding process does not remove your documents in their entirety from your premises, as opposed to transferring them to another location to be shredded. Throughout this process, the documents are destroyed first, then transported to a recycling facility in a secure manner. Due to the benefits outlined below, this form of shredding service is gaining a lot of traction throughout the world.
It's A Time and Money Saver!
Shredding documents takes a lot of time, money, and work, especially if you do it yourself. Shredding services in SoCal, on the other hand, provide specially made trucks with all of the essential equipment that come to your premises to shred your documents in a mobile truck. This method saves a significant amount of time and resources that can be put to better use in the business.
Minimizes Risk
On-site shredding services in Southern California are also regarded as the most effective way to dispose of unneeded data or private information. Because this approach does not need the transmission of sensitive documents, it helps to secure the highest level of data security and prevents it from being misused or mishandled.
You Can Witness The Process With Your Eyes
It makes a significant difference to have shredding done on-site. Mobile shredding services in SoCal allow you to monitor the whole data destruction process. This means that your critical data is constantly under your watchful eye, allowing you to have peace of mind.
Certificate of Destruction
Mobile shredding services in Southern California must ensure that all of your sensitive documents are securely destroyed and issue a Certificate of Destruction to prove it. This document contains all the details of the destruction and can be useful in the event of a dispute between parties. This unique advantage of on-site shredding protects you from potential legal issues.
On-site shredding also allows shredding companies like SAFESHRED to provide scheduled shredding services to clients that require shredding on a regular basis, in addition to all of the benefits described above. Companies cannot manage big records disposal operations on their own, especially given the difficulties of transferring them to a shredding facility. Allowing professionals to handle your shredding ensures the best mix of security and little disruption to your business operations.
If you're convinced of the advantages of on-site shredding and why it's ever so popular, contact us to set up a service day and time.
Call toll-free: 1-800-987-4733