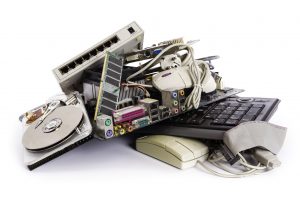 A new electronic device in the office usually has a lifespan between 3 to 5 years before it is tossed to the side due to the everchanging specs and enhancements. Subsequently, businesses who want to keep up with this fast-paced trend are forced to upgrade their equipment on a regular basis, leaving them with crammed storage rooms full with unused and old inventory. This not only creates an environment where it's hard to keep track of all the sensitive data, but it also exposes your organization to risk of identity theft and fraud. Please read along and find out how your company should dispose of old, unused devices the correct way.
Adhere to Retention Guidelines
Keep a close eye on the data stored on your electrical devices whether these are your client documents, your financial records, or health records. When this data reaches its retention period and expires, you have a legal duty to erase it. You must always make sure to be up to date with your data retention policy.
If the Device is No Longer In Use, Dispose of It
When dealing with sensitive data, you should be concerned about more than just your computers and laptops, as data can be stored on multiple types of devices. Devices like DVDs, CDs, USBs, hard disc drives can all be used to store important data, therefore they must be disposed of once they are no longer in use. If not correctly destroyed, the data on these devices will always be accessible to anyone that gets their hands on them.
Stay in Compliance with Regulations
Non-compliance fines and penalties may be imposed if you do not follow the disposal requirements of the laws set out by The Health Information Portability and Accountability Act (HIPAA), and The Fair and Accurate Credit Transaction Act (FACTA). Always check to see if your data disposal procedures are compliant with government regulations. After destroying your devices, a certified and reputable shredding service will be able to provide you a Certificate of Destruction. This document verifies your compliance by noting the time and date of destruction as well as the volume of data deleted.
Work With A Certified Destruction Company
Your data is not completely destroyed when you erase or reformat your devices. If in the hands of criminals, data can easily be retrieved from computer media that has been reformatted. The best way to avoid any risks such as identity theft and fraud would be to have these devices destroyed by a certified destruction company. After successful destruction, you will be given a certificate which verifies compliance.
>Being an industry leader with over 15 years of experience, SAFESHRED provides certified destruction for dvds, cds, hard drives, storage tapes, and other types of sensitive media. Call us and book your destruction service today.